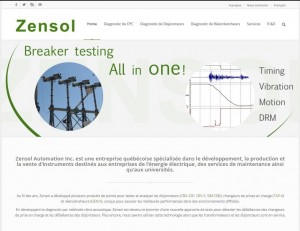 Zensol is proud to present its new multilingual website: Faster, Lighter and built to find the right product in a couple of minutes.
We created the multilingual website to provide the world with a complete range of languages and access to our instruments. Whether you are in North America, Europe or Asia or wherever else in the world does not matter anymore. You can find the language which suits you more and discover the best of our technology.
You can now get access to our instruments in a few clicks without spending hours to read huge amounts of information. All you need to do is now to choose the category of your instrument and have a glance on the full range of available analyzers. Every instrument has its own page with a short description and pictures you can easily magnify. We added a simplify chart at the bottom of every page to sum up the key features of the instrument, and you can still access the all description by clicking on the download link for the brochure.
Be sure to have a look at our new Services page to learn more about our maintenance and training services. Our staff also added the Research & Development page to give our customers some information about our past and future projects. Here you can learn more about our partnerships with the biggest company in the world and all the efforts our engineers put into the development of our instruments.
We have been developing customers-driven products for 25 years and Zensol.net is a proof of our attention to our customer's wishes. In the future, we have the project to offer more than 20 different languages on our website. That is a way to share our knowledge with the whole world.
If you have any question or recommendation about Zensol.net, feel free to contact us. We will respond to your request as soon as possible.
https://www.zensol.com/wp-content/uploads/2013/04/header2013_en.jpg
0
0
admin27
https://www.zensol.com/wp-content/uploads/2013/04/header2013_en.jpg
admin27
2014-10-07 19:00:23
2014-10-07 19:00:23
Our new website is ONLINE!